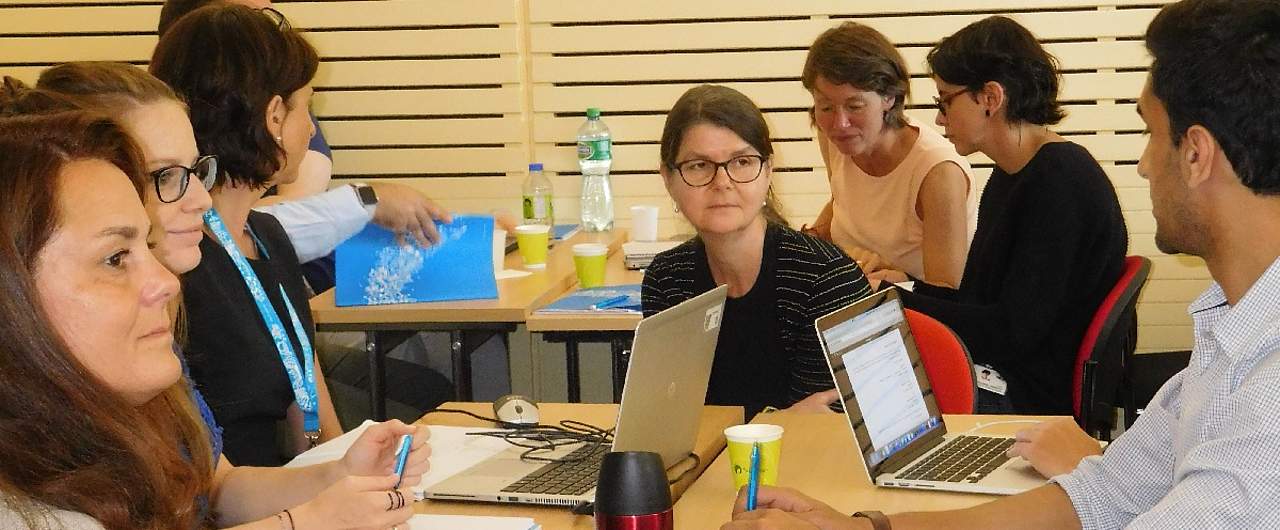 2023, August, 28-31, Lausanne - "Designing Behavior Change Interventions in Healthcare"
Every year, in August, the SPINE summer school is hosted by either the University of Lausanne or the University of Basel. The Summer school brings together international scholars and introduces new scientific methodologies andapproaches to gain research competencies. It is designed for PhD students in nursing sciences and other healthcare-related disciplines, while postdoctoral fellows can also benefit and engage in the summer school. Each year, the SPINE summer school has an agenda-specific theme and usually lasts for four days to foster interactive teaching and learning, as well as networking. During this time, participants have the opportunity to discuss how the taught principles can be applied to their own research projects. Teaching is in English.
Target Group and Eligibility: PhD students and TransSenior Phd students from the Universities of Lausanne and Basel.
Program: Please consult the detailed program for all further information.

Registration: Please follow this link. Registration is open until June 30th, 2023.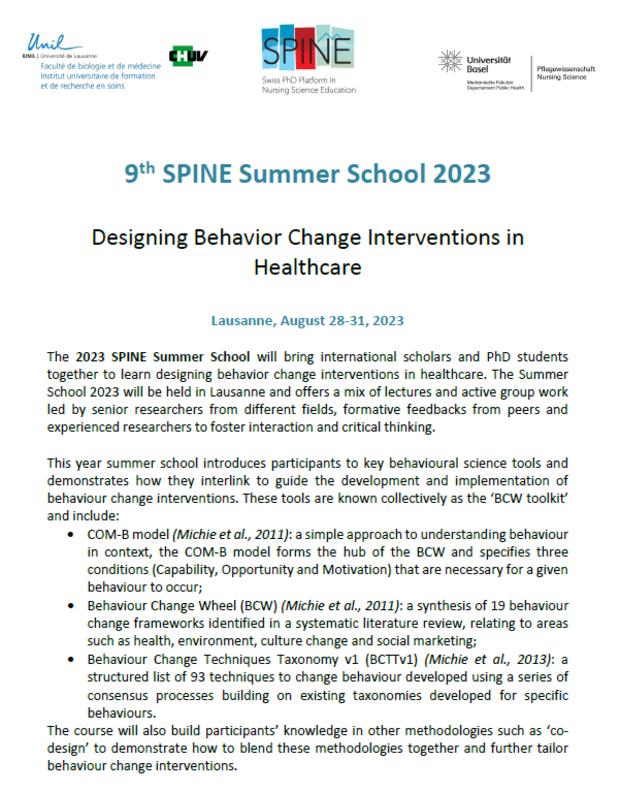 The Summer School 2023 will be held in Lausanne and offers a mix of lectures and active group work led by senior researchers from different fields, formative feedbacks from peers and experienced researchers to foster interaction and critical thinking.
This year summer school introduces participants to key behavioural science tools and demonstrates how they interlink to guide the development and implementation of behaviour change interventions. These tools are known collectively as the 'BCW toolkit' and include:
COM-B model (Michie et al., 2011): a simple approach to understanding behaviour in context, the COM-B model forms the hub of the BCW and specifies three conditions (Capability, Opportunity and Motivation) that are necessary for a given behaviour to occur.
Behaviour Change Wheel (BCW) (Michie et al., 2011): a synthesis of 19 behaviour change frameworks identified in a systematic literature review, relating to areas such as health, environment, culture change and social marketing.
Behaviour Change Techniques Taxonomy v1 (BCTTv1) (Michie et al., 2013): a structured list of 93 techniques to change behaviour developed using a series of consensus processes building on existing taxonomies developed for specific behaviours.
The course will also build participants' knowledge in other methodologies such as 'co-design' to demonstrate how to blend these methodologies together and further tailor behaviour change interventions.
The 2023 Summer School is a 4-day intensive course including lectures and group work. The course will be taught in English. Participants will also have the opportunity to discuss their own research project.
User login
Enter your username and password here in order to log in on the website